How Cocktail Crate Is Upping Your At-Home Craft Cocktail Game
Alex Abbott Boyd loves cocktails, parties and friends. What he doesn't love is getting stuck at parties making cocktails for his friends. #startabusiness
---
Alex Abbott Boyd grew up with free-spirited, food-loving, hippie-inclined parents (one from the land down under, the other from NYC) who kept a garden and made their own jam. Obviously, this environment can lay the groundwork for a love of good food and flavor, which is precisely what happened to Alex. Emboldened by capable tastebuds and with the early understanding that beverages held a soft spot in his heart, he's traveled far and wide in the name of a good sip.
This translates to everything from a days-long bike ride for a freshly poured pint at his fave brewery, to a journey into a remote part of India for a lesson in tea, to a corporate assignment with Pepsi that led him to Cairo, Egypt during Ramadan. Spoiler alert: he quit that last one mid-project and high-tailed it back home with no plan…which ultimately turned into Cocktail Crate.
Launched on Kickstarter, Cocktail Crate is a craft cocktail mixer that leaves out the nasties like juice from concentrate and processed extracts, replacing them with high-quality ingredients you actually want to drink. These ingredients and their sources are profiled on the Cocktail Crate website, and include small family run businesses like Natalie's Orchid Island Juice Company and Anderson's Maple Syrup.
It sounds like Alex and his team really have something figured out. But that's not to say they always have:
"I always love looking back on that to remind myself how stupid I was right at the beginning." – Alex

So, what'd we talk about?
Besides the mistakes that Alex made at the beginning, I talk to him about how he came up with the idea, how he plans to maintain the ingredient integrity as he scales and the first time he got drunk. Dinosaurs were involved, nbd.
For cocktails newbies, he also delves into his favorite resources for learning about libations and talks about what he orders at the bar when the cocktails are questionable.
Have you subscribed to the show yet? It's the best way to make sure you're getting all the goodness every week.  
Other ways to listen to the show: iTunes, Stitcher and Google Play
Show notes [times are approximate]:
Growing up with hippie, food-loving parents [2:15]
Biking long distances for beer [4:38]
Traveling to India in search of good tea [6:50]
Working for Pepsi in corporate consulting [9:29]
Inklings of entrepreneurship [12:34]
Developing the first mixer flavors [15:45]
Advice for cocktail novices [19:50]
The importance of sourcing high-quality ingredients [22:04]
Maintaining quality while chasing scale [24:30]
Advice for beverage entrepreneurs [25:13]
Alex's day-to-day [27:33]
What's next for Cocktail Crate? [29:09]
Most memorable cocktail [31:01]
The first time Alex got drunk [32:33]
What to order at the bar when the cocktails are questionable [33:24]
Most loved kitchen tool [34:09]
Favorite mixology "cookbooks" [34:52]
Resources mentioned on the show*:
The Joy of Mixology – Gary Regan
The Craft of the Cocktail – Dale DeGroff
Connect with Cocktail Crate:
cocktailcrate.com
Instagram:@cocktailcrate
Twitter: @cocktailcrate
Facebook: cocktailcrate
Store locator, including Target, Sam's Club and Whole Foods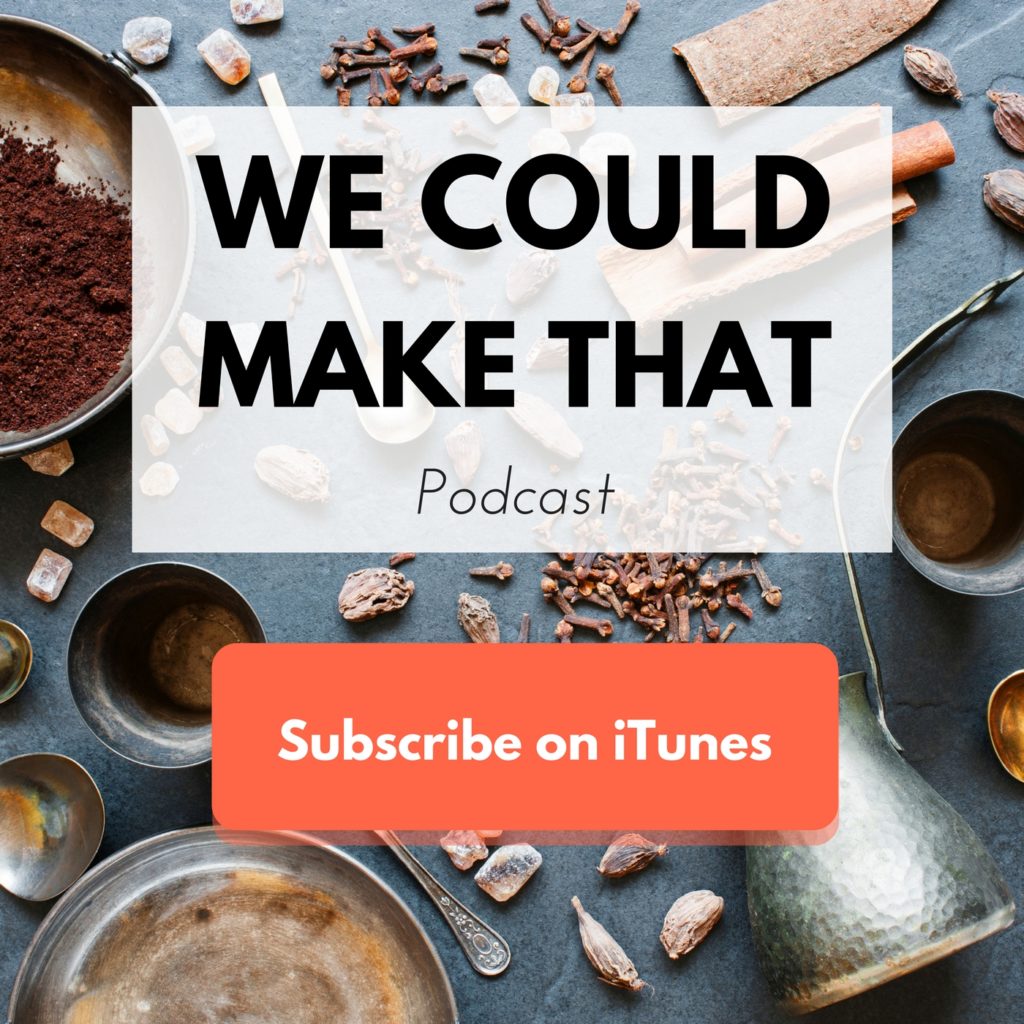 The intro music for the We Could Make That podcast was created by Brooklyn-based artist, Jenna Kyle. You can check out her new (non-podcast) music on Soundcloud.
*Links to Amazon are also affiliate links, so I'll make a teeny bit if you buy from them.