Here's What It Takes To Compete On The US Culinary Olympic Team
Eddie Tancredi went to the West Point of culinary schools and took bronze in the culinary Olympics. Now, he's putting down spice-filled roots in Cleveland.
---
Eddie Tancredi loves to win. And he loves to cook. So when he discovered that he could cook to win competitions, he was all in. For the last 12 years, he's rotated between the culinary competition circuit – competing against heavyweights like The Food Network's Bobby Flay – and cooking in the world's best restaurants. His last gig was as Executive Chef and Managing Partner of Adega restaurant in Cleveland's hottest downtown building, The 9.
Oh yeah. And he was on the freaking US OLYMPICS team for cooking. Where he won a bronze medal, by the way. As if that wasn't enough, he also won the American Culinary Federation "Chef of the Year" in 2013 after knocking the socks off judges with his red hot skills.
For now, Eddie's taking a brief break from the heat to turn his attention to entrepreneurship. This year, he launched a line of spices under his new brand, ETC: Eddie Tancredi Culinary, and has plans to release his signature dressings in the next few weeks. At 33, he's certainly had more than a few successes, but he told me that it really all comes down to goal-setting, planning and then working his ass off:
"To achieve five and ten year goals, you have to do the things other people aren't willing to do. And a lot of times, that's sacrifice and hard work." – Eddie Tancredi
So, what'd we talk about?
We get into Eddie's path – from burning steaks as a teenager to attending the West Point of culinary education, The Greenbrier. He also takes me through what it takes to pass the Master Chef exams, compete as a culinary Olympian and generally make it to the top of the pack in an industry full of egos.
I also asked him about the most underrated tool in the kitchen and what spices you should be using to crank up your kitchen game.
Have you subscribed to the show yet? It's the best way to make sure you're getting the goodness every week.  
Other ways to listen to the show: iTunes, Soundcloud, Stitcher and Google Play
Show notes [times are approximate]:
Getting started cooking as a teenager [2:00]
Heading to culinary school [5:21]
First job: Dave's Cosmic Subs [6:18]
Why stay and build a career in Cleveland? [7:22]
Business advantages in Cleveland [9:06]
Culinary school as a necessary foundation [10:27]
Greenbriar, the West Point for chefs [15:57]
Master chef certification [23:30]
The evolution of Eddie's drive to succeed [29:19]
Competing in the culinary Olympics [32:04]
Prepping for competitions [35:28]
Using creativity in competition [37:31]
Where Eddie finds inspiration [39:58]
Launching a spice and dressing company [41:09]
Eddie Tancredi Culinary – catering, consulting and cooking classes [45:45]
Best advice Eddie's received [48:32]
Favorite food city [50:31]
Most underrated kitchen tool [51:48]
Tancredi Sunday sauce [52:44]
Most underrated spices [54:21]
Connect with Eddie:
ETCulinary.com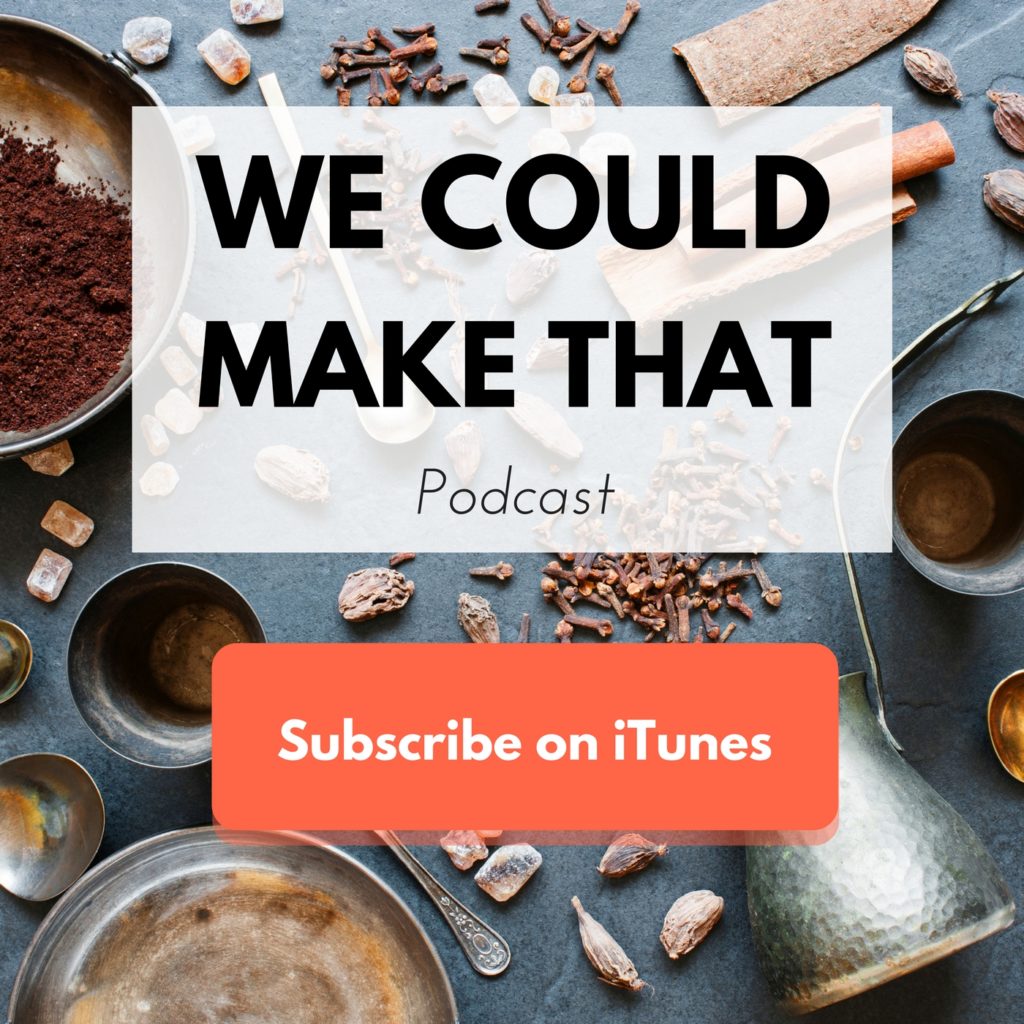 The intro music for the We Could Make That podcast was created by Brooklyn-based artist, Jenna Kyle. You can check out her new (non-podcast) music on Soundcloud.