Slice of Pai on Instagram, Food Trends and Starting Out
Joann Pai, or @sliceofpai as she's known to her Instagram fans, takes stunningly beautiful pictures of food. And she's talking about how you can, too.
---
WOAH! A podcast on a Wednesday instead of the typical Friday!? Yep. This is a new series: We Could Make That in-between-isodes where I talk to top food writers, popular Instagrammers and all around cool people to share their favorite makers of the moment. Have someone to nominate? Email me here.
Joann Pai started writing her blog as a way to keep her friends and family in the loop during her travels. Then, Instagram came along and everything changed. Suddenly, the gorgeous photos Joann was taking had a home, and people took notice. Her current Instagram count is sitting pretty at the 141,000 follower mark, and Joann says, she's finally starting to loosen the reigns and have a bit more fun with the medium.
But it's not all about Instagram. Joann is an accomplished food and travel photographer who's work has been featured all around the globe in publications such as Vogue, Saveur, The NY Times and Conde Nast Traveler. Her clients include everyone from the Shangri-la Hotel to Coca-Cola to the Gap, and a bunch of other big names in between. She's also the co-founder of Slice of Paris, an Instagrammer's guide to Paris and Acornmag, a collaborative food and lifestyle magazine that I can't stop obsessing over.
When you look at Joann's photos, it's hard to imagine that she was ever a novice. Surely she must have been born with the gift of making beautiful photographs, right? Wrong, wrong, wrong:
"I realized that my pictures looked like crap. So I started researching other blogs and YouTube videos on how to style food photos and light things properly. The photography part actually came after my love of food and travel." – Joann Pai, on returning to Vancouver after visiting Paris initially
So, what'd we talk about?
Joann shares with me how she got started and how Instagram catapulted her into her current career. I ask her about what she'd do online if she had to start over, and what advice she has for taking better food photos. We also chat about trends she's seeing in the world of food and photography, plus you know I ask her about her favorite food city.
Have you subscribed to the show yet? It's the best way to make sure you're getting all the goodness every week.  
Other ways to listen to the show: iTunes, Soundcloud, Stitcher and Google Play
Show notes [times are approximate]:
Earliest food memories [3:15]
How food has changed for Joann now that it's a career [4:24]
Common Instagram mistakes [5:47]
What Joann would do now if she were starting over [7:31]
Food and photography trends [8:55]
Favorite makers of the moment [11:14]
Favorite food city [12:08]
Dreamiest food day [12:53]
Stuff mentioned on the show*:
Janaki Larsen ceramics
Saint Frank Coffee Roaster
The Coffee Collective
Connect with Joann:
Instagram: @sliceofpai
Twitter: @sliceofpai_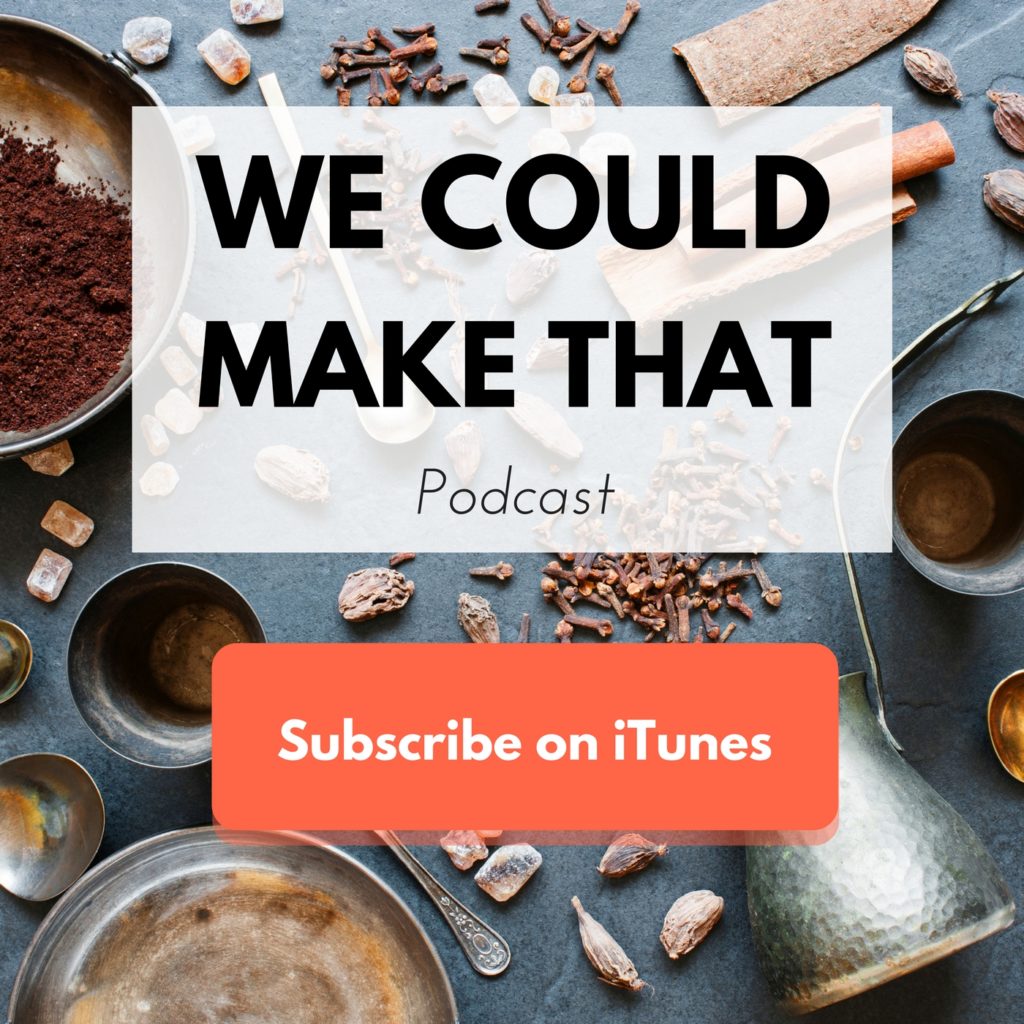 The intro music for the We Could Make That podcast was created by Brooklyn-based artist, Jenna Kyle. You can check out her new (non-podcast) music on Soundcloud.