Three Gringos Walk Into A Business…And The Result Is Jalapa Jar
The Jalapa Jar co-founders are essentially bootstrapping two startups at one time: a packaged goods product and a storefront slanging Austin-style breakfast tacos in NYC.
---
Who Is Jalapa Jar?
Tommy Byrnes (a Texan), Joel Nearing (a Texan) and Steve Smith (a Yank) are the founders behind Jalapa Jar, a fresh salsa developed by Joel and put onto NYC breakfast tacos by Tommy and Steve. Yep, you've heard that correctly: legit, Austin-style breakfast tacos have made their way to the streets of New York City. Specifically, this crew is churning out my favorite food (seriously, send all the tacos my way) at the Clark Street subway station in Brooklyn. Don't get weird. Tommy reassured me that they're not actually IN the station with small furry friends, but right above it in a baller arcade where you can like, still get cell service and shit.
After working in London for a few years, Tommy made his way back to NY with the idea to go into business. He and Steve paired up, tried to slang underwear and decided that salsa was more delicious (and that the clientele was probably less…um, ew.) They reached out to Joel, convinced him to jump on the bandwagon as the culinary whiz-kid and the rest is beautiful, fresh, spicy, tomatoey history.
But these dudes did something different than most small batch owners. In addition to launching the packaged salsa, they also rented a storefront where they sell their salsa on breakfast tacos, essentially bootstrapping two startups at one time. #overachievers
Still, though the businesses are vastly different, Tommy said the team's got a rule that spans across both:
"You have to hit the home run on the simple stuff." – Tommy Byrnes, co-founder of Jalapa Jar

So, what'd we talk about?
We start off with a clarification around what constitutes as Tex-Mex (spoiler alert: it's tough to pin down), then get into Tommy's background, how opening a physical location differs from CPG and how rallying NYC-based Longhorns was a pivotal strategy for initial Jalapa Jar success.
Tommy also dishes on the best gluten-free pizza restaurant in the city and tells me what he'd do with Jalapa Jar if money, resources and time were no issue.
Other ways to listen to the show: iTunes, Soundcloud, Stitcher and Google Play
Show notes [times are approximate]:
What is true Tex-Mex? [4:02]
Jalapa Jar name origins [7:39]
Why Jalapa Jar is different [12:25]
Tommy's background [17:30]
NYC as a launch pad [23:05]
Located above the subway [29:21]
How physical location differs from CPG [32:22]
Startup prioritization [41:36]
Quickfire [47:37]
Connect with Jalapa Jar:
www.jalapajar.com
Retail locations
Clark Street subway stand
Resources mentioned on the show*:
Pour Your Heart Into It by Howard Schultz
Rossopomodoro for gluten-free pizza in NYC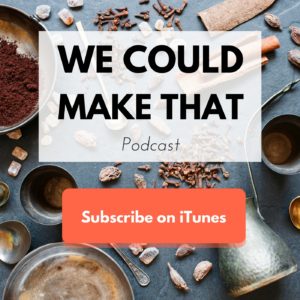 The intro music for the We Could Make That podcast was created by Brooklyn-based artist, Jenna Kyle. You can check out her new (non-podcast) music on Soundcloud.
*The links to Amazon in this post are affiliate links, which means I will probably get a few pennies if you buy by clicking from here.