Drawing On Hometown Roots And Old-Time Values With Stagg Jam
After starting her career as an architect, Stagg Jam founder Candice Ross had a strong desire to simplify. So naturally, as anyone looking to chill out would, she chose entrepreneurship.
---
When the going gets tough, the tough slow down. Or at least, that's Candice Ross' motto. She's the founder of the Brooklyn-born and based Stagg Jam, where she makes tasty jams and marmalades in cool flavors including seasoned sorrel, cherry chai, spicy orange with red pepper and fennel, and grapefruit rosemary, a nod to her Louisiana roots.
For the past year, Candice has steered the Stagg ship, aiming for ideals that would make her grandad proud (she named the company after him, after all.) For Candice, there's nothing more important than community, whether that's here in Brooklyn, or at home in the south. And in a world where everyone's trying to outdo one another, she's taking a different approach. One that's  all about pumping the breaks and making things as simple as possible:
"Things are crazy and we live in a complicated world, but you don't have to be overly complicated about it." – Candice Ross, Stagg Jam

So, what'd we talk about?
We talk about striving for simplicity, the new wave of "Made in Brooklyn," and the biggest lessons she's learned in the first year of business, including how she handles herself when things go wrong.
Other ways to listen to the show: iTunes, Soundcloud, Stitcher and Google Play
Show notes [times are approximate]:
Stagg Jam [1:55]
Simplicity in business [6:56]
Getting the word out [8:16]
New wave of Made in BK [9:36]
Reaction of family to jam business [11:18]
Biggest lessons learned [14:30]
Failed flavors [18:15]
When things go wrong [19:10]
Quickfire questions and what's next for Stagg [23:40]
Connect with Candice:
candice [at] staggjam.com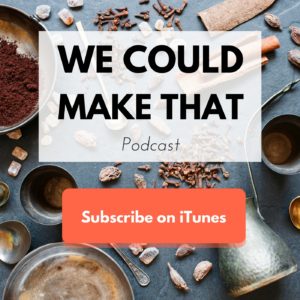 The intro music for the We Could Make That podcast was created by Brooklyn-based artist, Jenna Kyle. You can check out her new (non-podcast) music on Soundcloud.