The Most Impressive Person Of 2016
Sagan Schultz is quite possibly the most accomplished person you're going to meet in 2016. And it's almost the end of 2016, so that's a bold claim. He's the founder of WellWell, but really, he's so much more.
---
(Photo credit: NY Observer)
If you were a parent, chances are you'd want your kid to turn out like Sagan Schultz. Sagan is the CEO of the functional beverage and nutrition company, WellWell. He has a bachelor's degree in neuroscience, a medical degree AND MBA from NYU and he's a certified personal trainer. He's also a certified sommelier and a self-proclaimed fitness junkie.
While I was stalking his Instagram for this interview, I noticed he also recently built a kitchen table, so amateur woodworker wouldn't be an inaccurate title at this point either.
And if all that's not enough for you, he's currently in the process of putting together a program for med school students at NYU to better their understanding of nutrition and human behavior so they're more effective as doctors.
Based on what he's been able to achieve, it seems as though Sagan has figured out how to squeeze more than 24 hours out of the day, a helpful superpower when you're running a start-up and still trying to get 8 hours of sleep.
WellWell is a watermelon-based, tart cherry juice that aids in muscle recovery. Sagan developed it in his kitchen because he wanted something to help his body bounce back faster after a workout — and here's something I love: using his medical and science backgrounds, he created it by thinking of what he wanted it to accomplish for him, not by how it would taste or sell. (Though his somm background certainly came in handy when tinkering with flavor combos.)
At WellWell, he's also built a dream team around him, including The Meatball Shop/Seamore's founder, Michael Chernow:
"I had a mutual friend introduce us and pretty much the next day, we were business partners" – Sagan Schultz

So, what'd we talk about?
I asked Sagan how he does it all (despite my hunch that he's freezing time, he promises he's a mortal), and the advice he has for people who say they have no time to get things done.
We also talk about medical school in the US and the shocking lack of proper nutrition education taught to soon-to-be doctors. I also snuck in some questions about wine — specifically the best bottle Sagan ever drank, and the tips he has for picking the best bottle of Riesling (spoiler alert: they're not all sweet!)
Have you subscribed to the show yet? It's the best way to make sure you're getting all the goodness every week.  
Other ways to listen to the show: iTunes, Stitcher and Google Play
Show notes [times are approximate]:
How does Sagan do it all? [2:35]
What is WellWell [6:32]
The science behind WellWell [8:07]
How WellWell keeps cost down [14:07]
Building a wellness brand [16:01]
How juice fits into a nutrient rich life [17:10]
Learning (or lack of learning) about nutrition in med school [19:43]
Sagan's love of nutrition and fitness [22:30]
Has Sagan converted his family to healthy choices? [24:39]
Sagan's unconventional path [26:52]
WellWell's dream team [28:58]
Soho Lab Storefront [32:01]
Advice for time poor people [33:29]
Non-work habits for success [36:31]
Talking about wine, specifically Rieslings [38:02]
Favorite food city [41:48]
Dinner party guests [43:43]
Favorite type of workout [44:35]
Go-to meal to make [45:38]
Connect with Sagan and the WellWell team:
WellWell website
Instagram: @wellwell
Twitter: @wellwell
Shoot Sagan an email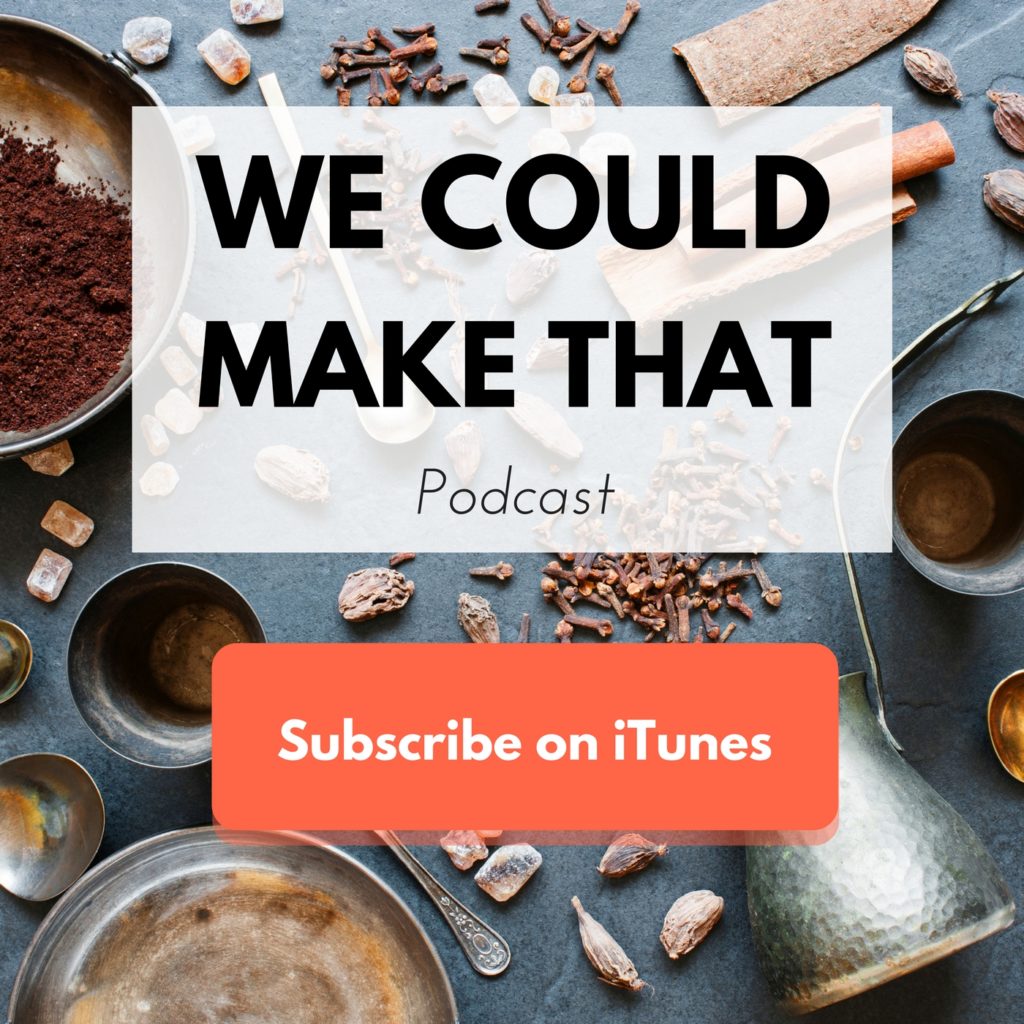 The intro music for the We Could Make That podcast was created by Brooklyn-based artist, Jenna Kyle. You can check out her new (non-podcast) music on Soundcloud.
*There are Amazon affiliate links in this post, which means if you click through and buy, I make a teeny bit.