Ozuke CEO, Willow King, On Friends As Co-Founders, Fermentation And Travel
Willow King went into the fermentation business kinda sorta haphazardly with her best friend. Now, she's the CEO of Ozuke, makers of fine fermented things.
---
When I grow up, I want to be Willow King. Or, maybe more accurately, I just want to move to Boulder, CO, hang out with Willow and her co-founder, Mara, and eat fermented things all the live long day. We could go snowboarding (even though I have no idea if Willow snowboards), plan trips to exotic locations (she definitely does this) and dream up ways to pickle our favorite foods (something she's already got on lock).
But, since I have no plans to hightail it to Colorado anytime soon, I'll have to settle for bringing her on my show and asking her a bunch of questions about her life and business. Willow is a world traveler, a total badass and the CEO of Ozuke, the makers of fine fermented things. This includes kimchi and sauerkraut, but also more eccentric food stuffs like Umeboshi plums and green tea sour pickles. Ozuke means "the best pickled things" in Japanese, and as someone who's in love with fermented and pickled foods, I can attest to the greatness of their products.
Willow's path has taken a winding road (she's lived on nearly every continent) before she landed in Boulder and started Ozuke. But she says, it all makes sense in hindsight:
"All the breadcrumbs end up being related, but you have to have some longevity to see how they're all connected." – Willow King, Ozuke CEO
So, what'd we talk about?
Willow tells me about her travel adventures, how jet-setting changed once she had kids and how the idea for Ozuke was born. On the business side, she gives her advice for starting a company with a friend, the key factors she sees in food business success and her top tips for fermenting.
If you couldn't already tell by my fan-girling above, I had a lot of fun recording this episode, and I think you'll have a lot of fun listening to it.
Other ways to listen to the show: iTunes, Soundcloud, Stitcher and Google Play
Show notes [times are approximate]:
Catching the travel bug [5:05]
How children change traveling [8:20]
What is Ozuke? [11:45]
Friends become co-founders [14:58]
Launching a company in Boulder [20:28]
Factors to food business success [22:31]
What Willow wishes she'd known about business [26:31]
A typical day [28:14]
Evolving motivations [29:41]
Connecting to the good food mission [32:51]
Fermenting tips [34:38]
Quickfire questions [37:04]
Willow's poem, written for a dinner party and titled "After the Bo Ssam":
So that was summer:
Vainglorious sunrises tinged with shell pinks in between ear and eye sunsets that beckon for more up: stay they say, you never know what you might miss.
For the eating: creek browns, greenbacks, porcini if you know where to look,
chanterelles for the lucky, snails for the brave, corn knee high, peaches, plums, cherry red cherry.
Slumber now calls like a siren with her whisper of lard, sour mash in oak, stars and pumpkins fat on the vine.
I do not pretend to know these seasons, I am an animal like all the others. We just harken. Call, repeat, call.
Make, listen, wait, bubble, wait, listen, gone bad? damn but wait.. good.
Definition one: fermentation: a chemical change with effervescence- good right?
Harvest coming home, coming in, for hearth and story and near. Kindling, then fire : light in the quiet part of the year like so many gathered hay bales : willing to politik, to make a stand, take your place, hold your own, but not alone. For heres to love and food and the dank mix of said and unsaid, touched and left wild- as our friend and fermentation guru, Sandor Katz says: "Life's truths cannot always be reduced to 12-point Times Roman."
Indeed.
Connect with Ozuke:
ozuke.com
Store locator
(Get 10% off with code ANDREA at checkout)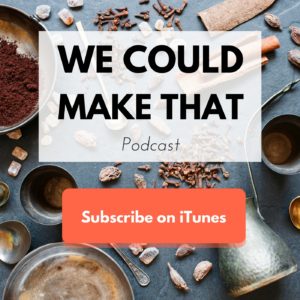 The intro music for the We Could Make That podcast was created by Brooklyn-based artist, Jenna Kyle. You can check out her new (non-podcast) music on Soundcloud.