What The Black Sheep Of Wine Can Teach You About Success
Andre Hueston Mack went from afternoon Frasier re-runs to sommelier at The French Laundry in under two years.
---
Who Is Mouton Noir?
In 2003, at the age of 30, Andre Hueston Mack was the first African American to be named Best Young Sommelier in America. Soon after, he accepted a somm job at The French Laundry before Thomas Keller sent him across the country to open the most anticipated restaurant of the year, Per Se. In 2007 – really just a few years after he jumped into the food and wine world – he left fine dining to launch his own company, Mouton Noir Wines.
Despite his massive success, Andre still calls himself the black sheep of the wine world. "Most people would assume I'm the last person who would know anything about wine. And I like that," Andre says.
Sure, you could say it's about how Andre looks: he's a black man in a very white industry. But it's more than that. Andre does things differently. He thinks differently, he acts differently. His advice in this episode is some of the best you'll find. His style and approach to work are unique, especially in our age of instant gratification. Even the way he raises his kids (they're homeschooled in NYC) reflects an alternate point of view. Andre's philosophy on life truly reflects someone who's not following the herd, but who is totally crushing it on his own terms.
"I feel much better and along my path when someone doesn't think that I'm supposed to be here." – Andre Hueston Mack, founder of Mouton Noir
 
So, what'd we talk about?
We talk about so much: starting with New Orleans food culture before chatting about how to use what's different about you to empower yourself and move forward. Andre shares how he got into wine by watching re-runs of the show Frasier (amazing), whether or not he believes in luck, and how he made the jump from Wine for Dummies to opening Thomas Keller's Per Se restaurant in NYC.
Andre's is an incredible story of hard work, perseverance and a good attitude. He's someone I could have easily talked to for hours on end. Don't miss this one.
Other ways to listen to the show: iTunes, Soundcloud, Stitcher and Google Play
Show notes [times are approximate]:
Normalization of alcohol in other cultures [4:31]
The black sheep of the wine world [7:35]
Leaving corporate for wine [16:54]
Frasier inspires Andre [18:52]
The wine rabbit hole [21:08]
First sommelier job [24:29]
The jump to The French Laundry [28:59]
Honing discipline [32:15]
Caring about focus and getting better [35:55]
Can work ethic be learned? [35:52]
Mouton Noir wines [41:18]
What if I fail? [43:53]
Advice to newbies [51:50]
Relationship with mentors [53:55]
Quickfire questions [57:11]
Connect with Andre and Mouton Noir:
moutonnoirwines.com
Instagram: @youknowmouton
Resources mentioned on the show*:
Burnt ends at The Joint in the Bywater, New Orleans
Service Included: Four-Star Secretes of an Eavesdropping Waiter by Andre's wife, Phoebe Damrosch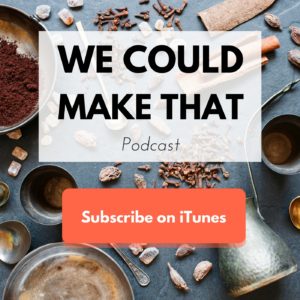 The intro music for the We Could Make That podcast was created by Brooklyn-based artist, Jenna Kyle. You can check out her new (non-podcast) music on Soundcloud.
*The links to Amazon in this post are affiliate links, which means I will probably get a few pennies if you buy by clicking from here.