Joy The Baker On Gap Years, Starting Over And Her Fave Food Trends
Joy Wilson started Joy the Baker in 2008. And then, rightfully so, the world fell in love with her, her witty writing style and her impeccable desserts.
---
WOAH! A podcast on a Monday instead of the typical Friday!? Yep. This is a new series: We Could Make That in-between-isodes where I talk to top food writers, popular Instagrammers and all around cool people to share their favorite makers of the moment. Have someone to nominate? Email me here.
I want to be Joy Wilson's friend. But then again, everyone does. That's why she's been awarded "Best Baking Blog" by everyone from Saveur to The Kitchn since she started joythebaker.com in 2008. In writing and in person, Joy is a sweetheart with a personality that makes you want to bake a cake with her, then get into your PJs and drink wine while swinging together on a porch swing, talking ish about the dude that dissed you at the bar last weekend. Not that I've thought about this in any detail at all…::side-eye::
Aside from her blog, she's also the author of two internationally successful cookbooks: "The Joy the Baker Cookbook" and "Homemade Decadence: Irresistibly Sweet, Salty, Gooey, Sticky, Fluffy, Creamy, Crunchy Treats." Now, she's busy working on a new cookbook, Over Easy, an ode to brunch due out in March.
And despite what people think about wildly successful food bloggers (you know, that one day they just decided to put up a post and the world immediately fell in love), Joy says what it actually takes is something a lot less sexy:
"The key to being comfortable working on the internet is being persistent and very consistent in your work." – Joy Wilson, Joy The Baker
So, what'd we talk about?
I asked Joy what she'd do if she had to start all over, how she thinks about integrating herself into a new community and and how she started the hilarious side project, Drake on Cake. She also divulges who her favorite makers of the moment are, the cookbook she's baked from most and what food trends she's currently crushing on.
Other ways to listen to the show: iTunes, Soundcloud, Stitcher and Google Play
Show notes [times are approximate]:
Taking a gap year [2:35]
Starting over in a new city [4:44]
Feeling comfortable in a creative project [7:31]
Advice for starting something online [8:55]
Drake on cake [10:51]
Joy's favorite food trends [12:46]
Favorite makers of the moment [15:21]
Favorite food city [15:56]
If Joy couldn't be Joy the Baker [16:26]
Baking music [16:56]
Cookbook Joy has baked from most [17:28]
Connect with Joy:
joythebaker.com
Resources mentioned on this show*:
Jessica Koslow's cookbook, Everything I Want to Eat
Four Barrel coffee roaster
Hedley and Bennett aprons
Smoke Signals bakery
The band, JOSEPH
Dorie Greenspan's cookbook, Baking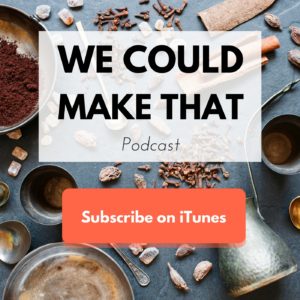 The intro music for the We Could Make That podcast was created by Brooklyn-based artist, Jenna Kyle. You can check out her new (non-podcast) music on Soundcloud.
*The links to Amazon in this post are affiliate links, which means I will probably get a few pennies if you buy by clicking from here.