Fawen's Drinkable Soups Are One Of 2017's Biggest Trends
Would you try a drinkable soup? The couple behind the new NYC-based company, Fawen, is betting that grab & go soups are about to go mainstream.
---
Who Is Fawen?
Amanda Bowen and Fabio Fossati are a couple. They do normal coupley things like work out and go on walks together. But a few years back, they took their relationship to the ultimate level. No, not marriage. Entrepreneurship.
Amanda had been making soup. Good, warming, delicious soup. One day, in a rush to get to the gym, the duo grabbed one of her concoctions and sucked it down cold. That's when the lightbulb clicked and their drinkable soup business, Fawen, was born.
The soups are all vegetables and coconut water with no added sugar, preservatives or other otherwise nasty bits. They pack a mean nutritional punch and as of now, come in three flavors: Beet/Purple Cabbage with Cumin, Broccoli/Cauliflower with Turmeric, and Sweet Potato/Red Lentil with Cinnamon. They also hit all of the important buzz words you're thinking about, including gluten-free, kosher, vegan and organic.
Fawen (Bowen + Fabio, get it?) officially launched this January, but these two have been hard at work behind the scenes since 2015. Still, Fabio says the decision to start a business didn't come lightly, or without growing pains of its own:
"The first step was deciding what we actually wanted to do with our lives." – Fabio Fossati, co-founder of Fawen drinkable soups, on deciding to leap into entrepreneurship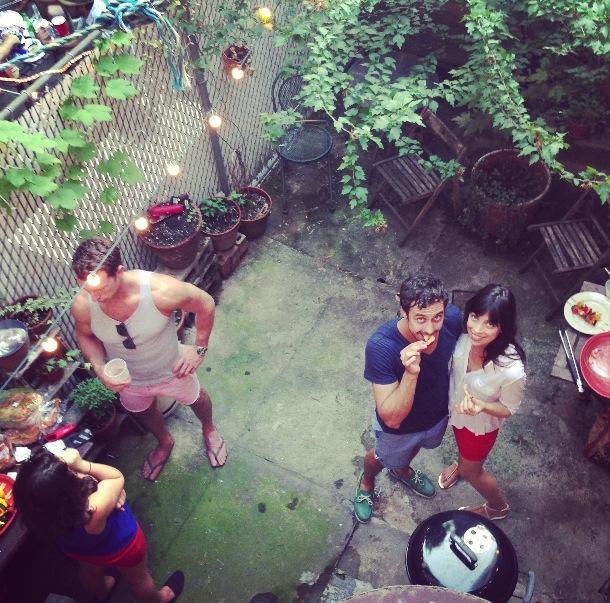 So, what'd we talk about?
On this show, I talk to the team about what it's like to go into business with your significant other, planning for best and worst case scenarios and how they financed the launch. They also shed some light on the marketing channels that have been most effective for them and how their lives have changed since becoming entrepreneurs.
Other ways to listen to the show: iTunes, Soundcloud, Stitcher and Google Play
Show notes [times are approximate]:
Developing drinkable soup [2:01]
Starting a business with your romantic partner [3:45]
How Amanda and Fabio met [6:53]
Naming the company [8:38]
Food and health backgrounds [10:05]
Education around launching a new product [14:36]
Overcoming "hot" soup challenge [17:45]
Developing the flavors [21:00]
Scaling the recipe [22:15]
Process before official company launch [23:40]
Biggest hiccup to date [25:32]
Co-founder admirations [26:35]
How life has changed since becoming entrepreneurs [29:08]
Financing the company [30:59]
Longer term vision [33:02]
Balancing resources for marketing and PR help [34:45]
Most effective marketing channel [36:30]
Quickfire [37:55]
Connect with Fawen:
www.drinkfawen.com
Instagram: @fawensoup
Resources mentioned on the show:
Angelica's Kitchen, New York City
Peacefood Cafe, New York City
Caravan of Dreams, New York City
Bliss Cafe, Williamsburg, Brooklyn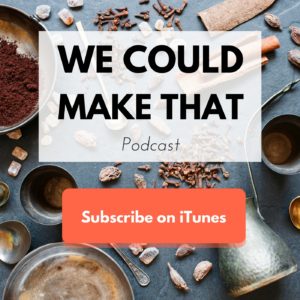 The intro music for the We Could Make That podcast was created by Brooklyn-based artist, Jenna Kyle. You can check out her new (non-podcast) music on Soundcloud.